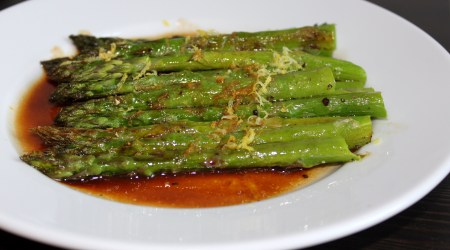 This is a super easy and super yummy way to serve asparagus! The sweet and salty butter adds so much flavor to the dish. I ended up eating the entire plate as my dinner–it's that good. But you could also pair it with Baked Chicken Breasts or Panko Pork Chops. This recipe is from a 2001 Cooking Light magazine, an oldie but a goodie! In fact, this recipe was voted best vegetable side dish in the magazine's 20th anniversary edition. See, it's not just me who loves it!!
Ingredients:
40 fresh asparagus spears, trimmed (about 2 pounds)
1 Tablespoon extra virgin olive oil
Fresh ground black pepper and kosher salt, to taste
2 Tablespoons butter
2 teaspoons soy sauce
1 teaspoon high quality balsamic vinegar
Fresh grated lemon rind from 1 large lemon

Directions:
Pre heat oven to 400 degrees F.
Arrange asparagus in a single layer on baking sheet and drizzle with olive oil.
Sprinkle with salt and pepper to taste.
Bake 12 minutes or until tender.
Melt butter in a small skillet over medium heat and cook 3 minutes or until lightly browned, shaking pan occasionally.
Remove from heat and stir in soy sauce and balsamic vinegar.
Drizzle butter sauce over asparagus, tossing well to coat.
Garnish with additional pepper and lemon rind.

Related Recipes