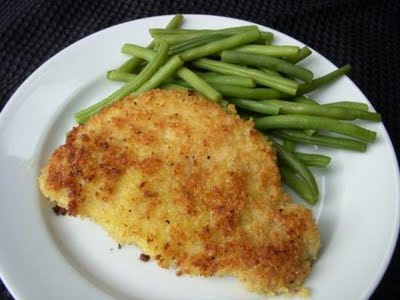 If you've never used Panko Japanese breadcrumbs before, give 'em a try with this simple and delicious recipe! Panko breadcrumbs are extra crispy and add the perfect texture to just about anything you bread with them. You can typically find Panko breadcrumbs in a grocery store's Asian aisle. Serve these pork chops with steamed green beans and
Asian Vegetable Rice
for a delicious dinner.
Ingredients:
4-6 thin cut, boneless pork chops
1 egg
2 Tablespoons water
3/4 cup all-purpose flour
2 cups Panko Japanese bread crumbs
1 1/2 teaspoon Zenders of Frankenmuth Chickening Seasoning-or-1 teaspoon kosher salt
2 teaspoons onion powder
Fresh ground pepper, to taste
Canola oil
Directions:
Whisk egg with water until frothy. Set aside.
Place flour onto a shallow plate. Set aside.
In a pie dish, mix Panko breadcrumbs with salt, onion powder, and black pepper to taste. Set aside.
Generously sprinkle additional black pepper onto pork chops. Set aside.
Heat 4-5 Tablespoons of canola oil in a large non-stick skillet over medium-high heat.
While oil is heating, place 1 pork chop into flour and lightly coat. Shake off excess. Then dip into egg wash and coat both sides. Next place pork chop into pie plate of seasoned Panko and coat well, pressing Panko onto both sides. Repeat process until all pork chops are breaded.
Place 3 or 4 breaded pork chop into hot oil in pan and cook 5 minutes. (Do not over-crowd pan.)
Turn each pork chop over and cook additional 5 minutes, until golden brown. (Add more oil to pan as needed.)
If cooking in batches, wipe skillet clean after each batch.

Related Recipes