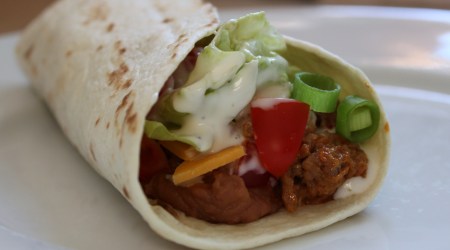 You don't realize just how far away Mexico is from Europe, until you want to eat Mexican food. The Mexican food leaves much to be desired over here (especially after living in California for years!) Luckily, there are ways to create my favorites at home. Here's my recipe for a 7-layer burrito (makes enough for 4 big burritos.) Simple, yet soooo satisfying when you're in the mood for Mexican. And of course you gotta serve it along side Fresh Tomato Salsa, Guacamole and chips!!
Ingredients:
1 lb. lean ground beef
1 packet taco seasoning mix
1 can refried beans
4 large tortilla wraps
1 cup iceberg lettuce, shredded
1 cup sharp cheddar cheese, shredded
1/2 cup fresh tomato, diced
2 fresh green onions, chopped
Sour cream to taste (Or instead try it with a dab of Ranch dressing–yum!)
Directions:
In a large skillet, cook ground beef until no longer pink. Drain off fat.
Add taco seasoning packet and water according to package directions. Set aside.
Remove refried beans from can and heat in microwave on high for 2 minutes, stirring once. Set aside.
Warm tortilla wraps in microwave on high for 20 seconds.
Divide all ingredients into 4 servings.
Into each of the 4 tortillas, layer beans, meat, cheese, lettuce, onions, tomatoes, and sour cream (or Ranch, if using).
Wrap up burrito-style, by folding up bottom and wrapping over each side.

Related Recipes