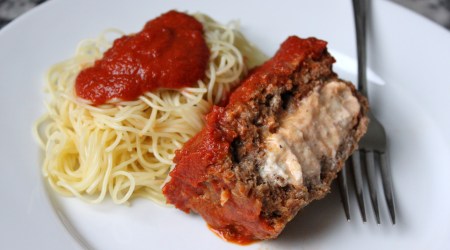 You may notice this is the first (and only) meatloaf recipe on here. I'm not a huge fan. But this meatloaf has changed my mind! My friend Missy sent me this recipe in an email titled "best meatloaf ever!" And I gotta hand it to her–she may be right. Next time you're making a spaghetti dinner, serve this meatloaf instead of meatballs and see if you agree.
Ingredients:
1 lb. lean ground beef
1/2 cup Italian seasoned breadcrumbs
Fresh ground pepper, to taste
1 Tablespoon dried minced onion
1/2 cup freshly grated parmesan cheese
1 egg
1/4 teaspoon Worcestershire sauce
Dash (or two) Tabasco
1/2 cup ricotta cheese
1/2 cup mozzarella cheese, shredded
1 teaspoon dried Italian herbs
1/2 cup tomato sauce
Directions:
Pre heat oven to 350 degrees F.
Spray a loaf pan with Pam cooking spray and set aside.
In small bowl, mix together breadcrumbs, pepper, minced onion and parmesan cheese. Set aside.
In a large bowl, break up beef and make a well in the center.
Break egg into well.
Add Worcestershire sauce and Tabasco to egg.
With a fork, quickly beat egg and sauces together in the well.
Using your hands, mix eggs and meat together until well combined. (Wash hands!)
Add breadcrumb mixture into meat mixture, and stir until well incorporated.
In a separate mixing bowl, combine ricotta cheese, shredded mozzarella and Italian herbs.  Set aside.
Divide meat mixture into 2 equal parts.
Press 1/2 of meat mixture into bottom of loaf pan.
Pressing down with fingers, create a shallow "ditch" down the middle of meat mixture.
Spread ricotta mixture into ditch, leaving  1-1/2 inch border of meat all around.
Press second 1/2 of meat mixture into loaf pan, pushing down around edges to seal in filling.
Bake un-covered 25 minutes.
Remove from oven and spread tomato sauce on top of meatloaf.
Return to oven and bake additional 15 minutes.
Cool 5 minutes, then slice and serve.

Related Recipes