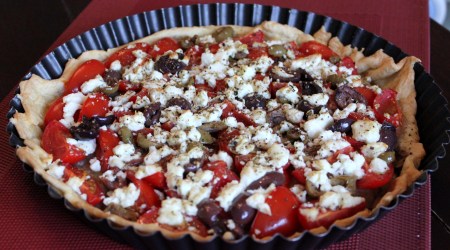 This simple tart is best made with high quality ingredients. Look for red, ripe, fresh tomatoes, high quality olives, and buy the best extra virgin olive oil you can find. This is a fantastic lunch paired with a Mixed Salad with Balsamic Dressing. I pulled this recipe from Real Simple magazine a few years back.
Ingredients:
1 refrigerated pie crust
6 fresh plum tomatoes, each cut lengthwise into 6 wedges
1/2 cup oil-cured olives, pitted
6 oz. Feta cheese
3 Tablespoons extra virgin olive oil
1 teaspoon Herbes de Provence
Fresh ground pepper, to taste
Directions:
Pre heat oven to 350 degrees F.
Fit the pie crust in a 9-inch fluted tart pan.
Prick the bottom with the tines of a fork.
Bake just until the crust begins to brown, 5 to 7 minutes.
Remove crust from oven and fill with tomato wedges.
Scatter olives and cheese on top.
Drizzle olive oil over the tart and sprinkle with Herbes de Provence and pepper.
Bake 25 minutes or until the crust is golden and the tomatoes are soft.
Serve warm or at room temperature.

Related Recipes