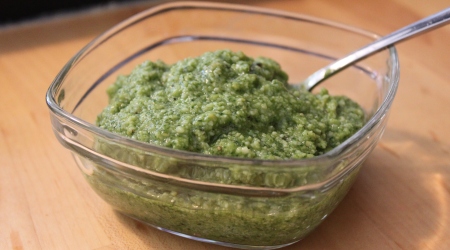 There are countless delicious ways to use pesto, so a good basic recipe is essential. Here's mine! Whip up a batch using fresh summer basil and serve it over gnocchi, cheese tortellini, or spread some on a hot baked baguette instead of butter. It's also delicious as a dipping sauce for bread–spoon a Tablespoon into a small bowl and add extra olive oil to thin it out for dipping. This recipe makes 1 cup pesto–freeze what you don't use.
Ingredients:
2 cups fresh basil leaves, packed
1/2 cup freshly grated parmesan cheese
1/2 cup extra virgin olive oil
1/3 cup pine nuts
2 fresh garlic cloves, chopped
Pinch of kosher salt
Freshly ground black pepper, to taste
Directions:
Combine basil with pine nuts and pulse a few times in a food processor.
Add garlic and pulse a few times more.
Slowly add olive oil in a constant stream while food processor is on. Stop to scrape down sides of food processor with rubber spatula.
Add grated cheese and pulse again until blended.
Add pinch of salt and freshly ground black pepper to taste.
Spoon into a container with a lid and store in refrigerator.

Related Recipes