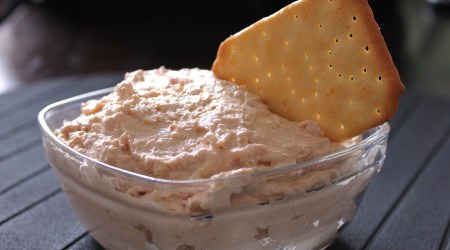 My Aunt Trudy makes a version of this spread at every holiday party, and I'm pretty sure I eat most of it. It's one of my absolute favorite appetizers! It is a delicious mix of flavors and tastes scrumptious spread on top a buttery cracker. I'm sorry it took me this long to share it with you. Please enjoy!
Ingredients:
2 (8 oz.) packages cream cheese, softened
1/2 cup sweet chili sauce
1 teaspoon Worcheshire sauce
2 teaspoons dried minced onions
Juice from 1/2 fresh squeezed lemon
1/4 teaspoon garlic salt
1 (6 oz.) can lump crab
Directions:
With an electric mixer, combine all ingredients EXCEPT CRAB (cream cheese thru garlic salt.)
Beat on medium speed for 1 minute, until well combined and slightly fluffy.
Fold in crab meat.
Place spread in a serving dish, cover with Saran wrap, and refrigerate at least 2 hours before serving.
Serve with buttery crackers.

Related Recipes