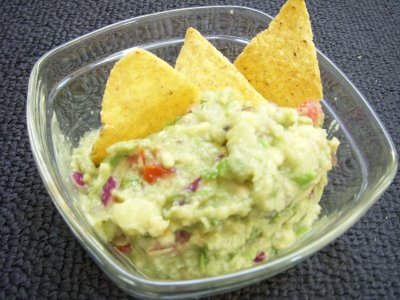 I learned to truly appreciate the avocado while living in California. They were always available–in fact a co-worker of mine had an avocado tree in her backyard and used to share the amazing fruits with us. And what better to do with an avocado than make guacamole! Here's my favorite recipe (that I've tried to perfect over the years!). It serves 4-6 people.
Ingredients:
3 fresh, ripe avocado
3 fresh Roma tomatoes, diced
1/4 cup red onion, diced
1/4 cup fresh cilantro, chopped
Fresh juice from 1/2 large lemon (do not use bottled)
1 teaspoon garlic salt
Fresh ground pepper
Dash of Tabasco (if desired)
Directions:
Pit the avocados and remove from peel. Discard peels and all but one pit.
Place avocado flesh in a bowl and mash with fork, to chunky consistency.
Fold in remaining ingredients and mix until well combined.
Place reserved pit in center of guacamole–this keeps the guacamole a bright green color rather than turning grey in the fridge.
Cover with plastic wrap and refrigerate 1 hour before serving for best flavor.
Remove and discard pit, and serve with tortilla chips.

Related Recipes