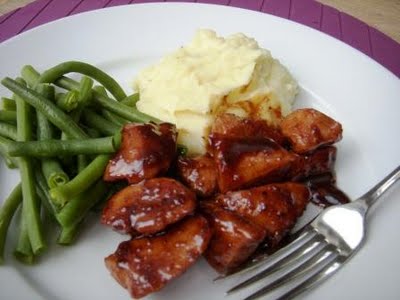 I will admit–I make this recipe a lot. It's so easy, so tasty, and done in no time. Plus my family and I love it! My favorite way to serve this chicken dish is with mashed potatoes and steamed green beans. But it also goes well on whole wheat pasta or along side Oven Baked Rice. See if it becomes a regular dinner in your house!
Ingredients:
4 skinless, boneless chicken breasts
1/4 cup high quality balsamic vinegar
1/4 cup water (I've tried using chicken stock instead of water, but it makes the dish too salty.)
1/4 cup red wine
3 Tablespoons white vinegar
2 Tablespoons extra virgin olive oil, plus 2 teaspoons for pan
2 fresh garlic cloves, minced
1 dry packet Good Seasons Italian Dressing mix
Fresh ground black pepper, to taste
Directions:
In a large glass measuring cup, whisk together balsamic vinegar, water, red wine, white vinegar, 2 Tablespoons olive oil, and dry Good Seasons Italian Dressing mix. Set aside.
Cut chicken breasts into equal sized 1-inch pieces.
Heat 2 teaspoons olive oil in a large non-stick skillet over med-high heat.
Add chicken pieces to skillet and saute for 6 minutes, until pieces are lightly browned.
Add fresh ground black pepper and garlic to skillet with chicken and cook 30 seconds, stirring continuously.
Pour sauce into skillet with chicken and garlic.
Stirring frequently, simmer on med-high heat for 10 minutes, until sauce is reduced.

Related Recipes