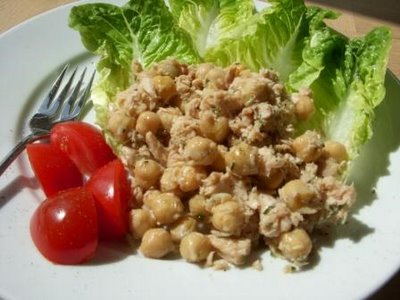 Here is one of my favorite ways to eat tuna! I've been making this recipe for years. It's a great summer lunch, served over Romain lettuce leaves with sliced
fresh
tomatoes.
Ingredients:
2 (7 oz) cans of tuna (in water) drained and flaked
1 (15 oz) can white beans, drained and rinsed
1/2 cup extra virgin olive oil
3/4 cup white wine vinegar
3 garlic cloves, minced
3/4 teaspoon dried tarragon
1/4 teaspoon ground red pepper
1/4 teaspoon kosher salt
Romain lettuce and tomatoes, for serving
Directions:
In a large bowl, whisk together olive oil, vinegar, garlic, tarragon, ground red pepper, and salt.
Fold in flaked tuna and white beans.
Cover and refrigerate at least 1 hour before serving.
Serve over Romain lettuce leaves with sliced tomato, if ya like!