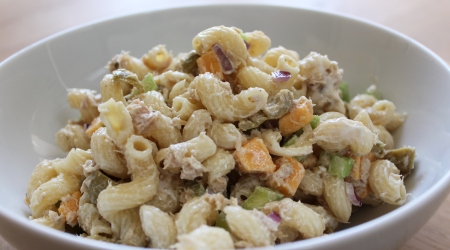 When it's too hot to cook, make a big batch of this tuna noodle salad and serve it for lunch or dinner. This is my special recipe with a secret ingredient that zests things up! This cold pasta salad is great along side bunches of tangy green grapes or slices of cool cantaloupe. Leftovers keep for up to 3 days in the fridge.
Ingredients:
1 lb. spiral pasta, cooked according to package directions, and cooled completely.
3 (5 oz. each) canned tuna, packed in water and drained
1 1/2 cup mayonnaise
1/2 cup prepared Ranch dressing, (my secret ingredient!)
1 cup celery, diced
1 cup red onion, diced
1 cup green olives, sliced
1 cup sharp cheddar cheese, cut into small cubes
Kosher salt and fresh ground black pepper, to taste
Directions:
Place cooked and cooled pasta in a large bowl.
Add in tuna, mayo, and Ranch dressing. Stir to combine well.
Fold in all other ingredients.
Season with salt and pepper, to taste.
Chill 1 hour in fridge, then serve.

Related Recipes