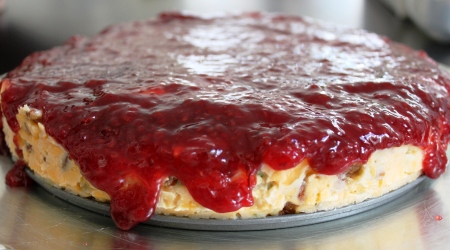 Try this delicious appetizer at your next party! The unique combo of flavors is scrumptious. I brought this to a party recently and people devoured it. This recipe makes a large amount–perfect for a gathering. Plan ahead when making it, as it needs to chill for a few hours. Serve it cold from the fridge with crackers. Thanks to my friend Jessica for the recipe.
Ingredients:
6 cups sharp cheddar cheese, shredded
1 ½ cup mayonnaise
3 fresh green onions, minced
1 teaspoon Tabasco
1 cup pecans, chopped
1 (8 oz.) jar raspberry preserves
Directions:
Combine cheese, mayo, onions, Tabasco and nuts in a large bowl.
Mix until well combined.
Spread mixture into a 7 1/2-inch spring form pan.
Cover and chill in refrigerator 3 to 4 hours, or overnight.
Remove from pan and place onto serving plate.
Evenly spread raspberry preserves on top.
Serve with crackers.

Related Recipes