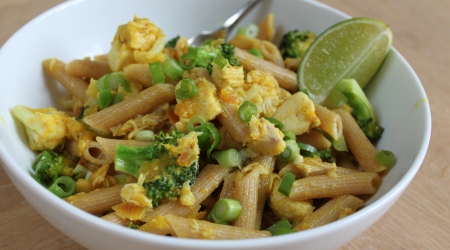 This dish is so full of fresh, delicious flavors that I could not stop eating it! (Luckily it's from Cooking Light magazine, so I wasn't completely over indulging.) Yes, it dirties about a million pans and takes around an hour to make, but trust you me, it's soooo worth it! In fact, I think you should make this the next time you have company over for dinner. They will eat every bite and be mega impressed!
Ingredients:
2 cups fresh ripe mango (about 2 mangoes), peeled and diced
1 cup fresh red onion, finely chopped
1/2 cup water
2 Tablespoons brown sugar, packed
1 Tablespoon curry powder
1 Tablespoon fresh lime juice
1/2 teaspoon fresh ground black pepper
1/2 teaspoon fresh ginger, peeled and chopped
1/4 teaspoon Kosher salt
2 teaspoons extra virgin olive oil
3 fresh garlic cloves, minced
1 pound skinless, boneless chicken breasts, cut into 1-inch pieces
1 cup light coconut milk
2 Tablespoons granulated sugar
1 teaspoon Kosher salt
1 1/2 teaspoons red curry paste
1 teaspoons Thai fish sauce
2 cups fresh broccoli florets, washed and cut
2 cups fresh cauliflower florets, washed and cut
5 cups whole wheat penne pasta, cooked according to package directions
2 Tablespoons chopped green onions
Additional fresh lime, for garnish
Directions:
To prepare chutney, combine first 9 ingredients in a medium saucepan and bring to a boil.
Reduce heat, and simmer un-covered 15 minutes or until most liquid evaporates and mixture is thick, stirring occasionally.
To prepare chicken, heat oil in a large nonstick skillet over medium-high heat.
Add garlic and chicken and saute 5 minutes.
Whisk together coconut milk and next 4 ingredients (coconut milk through fish sauce), until well combined.
Add coconut mixture to pan and bring to a simmer.
Add broccoli and cauliflower.
Cover and cook 7 minutes, or until vegetables are crisp-tender, stirring occasionally. (Sauce will be runny, but it's OK. The pasta will soak it up once added.)
Stir in chutney and hot cooked pasta.
Toss well to combine.
Sprinkle with green onions, and squeeze on additional fresh lime, before serving.

Related Recipes