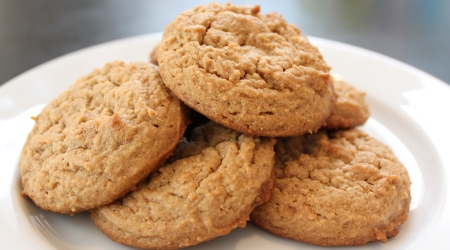 My Dad sent me a cookbook called "The Cook's Encyclopedia of Cookies". It's full of fantastic recipes, including classics like this peanut butter cookie recipe. Delicious with a cold glass of milk!
Ingredients:
1 cup all purpose flour
1/2 teaspoon baking soda
1/8 teaspoon salt
1/2 cup butter
3/4 cup light brown sugar, packed
1 egg
1 teaspoon vanilla extract
1 cup crunchy peanut butter
Directions:
Sift together flour, baking soda and salt. Set aside.
With an electric mixer, cream together butter and brown sugar until light and fluffy.
Add egg and vanilla and gradually beat into butter mixture.
Stir in peanut butter and blend thoroughly.
Stir in dry ingredients.
Chill 30 minutes, or until firm.
Pre heat oven to 350 degrees F.
Spray two cookie sheets with Pam cooking spray.
Spoon out rounded teaspoonfuls of dough and roll into balls.
Place balls on prepared cookie sheets and press flat with a fork, making a criss-cross pattern.
Bake 12-15 minutes, until lightly browned.
Transfer to a wire rack to cool completely.

Related Recipes