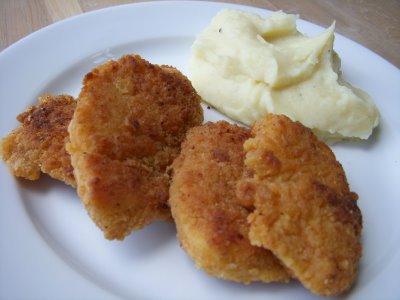 Here's a healthier way to make and enjoy flavorful chicken tenders at home–and avoid the frozen chicken nuggets from the store (which are processed meat, packed with sodium, fat and calories–yuck!) Take the time to make a big batch of these juicy-on-the-inside, crispy-on-the-outside chicken tenders and you'll be glad you did! Serve with mashed potatoes and steamed veggies for a balanced meal. Leftovers are also great when tossed into a salad, like BBQ Chicken Ranch Salad!
Ingredients:
4 large chicken breasts, skinless and boneless
2 cups crushed buttery cracker crumbs
1 cup all purpose flour
1 teaspoon paprika
1 teaspoon garlic salt
1 teaspoon onion powder
2 teaspoons Zenders of Frankenmuth Chicken Seasoning (my secret ingredient, but only available in Michigan. Use other chicken seasoning as a substitute.)
Fresh ground black pepper, to taste
1 cup milk
Extra virgin olive oil, for pan
Directions:
Cut chicken breasts into equal size pieces.
Pour milk into a bowl. Place all chicken pieces into bowl of milk and let set at room temperature 10 minutes to tenderize meat.
While chicken is tenderizing in milk, place cracker crumbs, flour, and all spices (paprika thru black pepper) into a large zip-lock bag. Seal bag and shake well to mix all ingredients.
In a large non-stick skillet, add generous portion of olive oil over medium-high heat. Oil must be hot before cooking.
While oil is heating, remove chicken pieces from milk and add to cracker crumb mixture, one at a time.
Coat chicken pieces generously with crumbs, pressing to make 'em stick.
Then dip each piece briefly back in milk, then once again into cracker crumb mixture. (They are extra tasty when double-battered!)
Repeat until all pieces are double-battered with crumb mixture.
Place coated chicken pieces into hot oil and pan-fry 6-8 minutes. (Cook in several batches, ensuring pieces don't touch each other in pan or they will steam, not brown.)
Using tongs, turn each piece over and cook additional 6-8 minutes on other side, or until golden brown and cooked thru.
Once cooked, remove from pan and place on paper towel lined plate to absorb excess oil.
Serve hot with your favorite dipping sauce.

Related Recipes