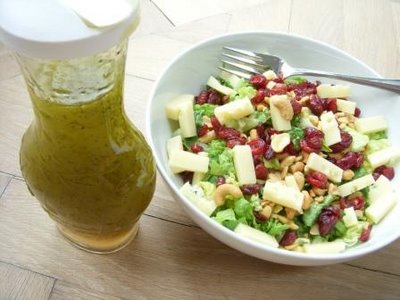 This recipe came from my in-laws, but I tweaked the salad dressing in an effort to cut calories. It's by no means low-cal now, but a little goes a long way, so dig in! I enjoy this salad by itself, but you can also serve it with a grilled ham and Swiss sandwich for a full meal.
Ingredients:
3/4 cup extra virgin olive oil
1/2 cup white sugar
1/2 cup white wine vinegar
1 teaspoon Dijon mustard
1 teaspoon grated white onion, with juice (use the small holes on a cheese grater or a zester)
1 teaspoon poppy seeds
1/4 teaspoon salt
3 cups Romain lettuce, rinsed and chopped
1/2 cup roasted, salted cashew pieces
1/2 cup dried cherries (can also use cherry flavored Craisins)
1/2 cup Swiss cheese, cut into 1/4-inch chunks
Directions:
To make salad dressing –
Combine first 7 ingredients (thru salt).
Shake vigorously until completely combined.
Chill in fridge for 1 hour before serving, to allow flavors to combine.
Shake again before pouring on salad.
To make salad –
Combine lettuce pieces, cashews, dried cherries, and Swiss cheese chunks.
Toss with dressing.
Serve immediately.

Related Recipes