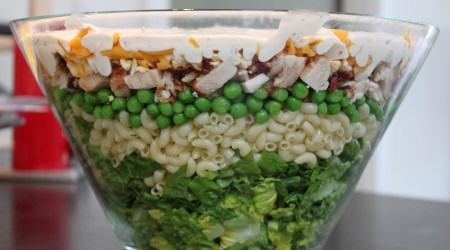 Here's my Mother's yummy recipe for 7-layer salad. It's one of those meals where you try to get a bite of everything on your fork all at once! This recipe makes a giant bowl so is great to serve at a summer luncheon, or bring to a potluck. Make it with Yogurt White Bread or Cheesy Beer Bread for a complete meal!
Ingredients:
6 cups Romain lettuce, washed, dried and chopped
1 lb. macaroni noodles, cooked according to package directions, drained and cooled
2 cups frozen peas, thawed (not cooked)
2 cups cooked rotisserie chicken, chopped
10 strips bacon, cooked, cooled, and chopped
5 eggs, hard boiled, cooled, and chopped
1 1/2 cups sharp cheddar cheese, shredded
1 cup mayo
1 cup sour cream
1 ranch salad dressing packet
2 Tablespoons fresh chives, chopped
Directions:
In a small bowl whisk together mayo, sour cream, ranch dressing packet, and chives. Set aside.
In a large glass serving bowl, layer ingredients FROM BOTTOM UP in this order: lettuce, macaroni, peas, chicken, bacon, egg, cheese.
Top with ranch dressing.
Cover with plastic wrap and refrigerate at least 1 hour before serving. Then dig in!

Related Recipes