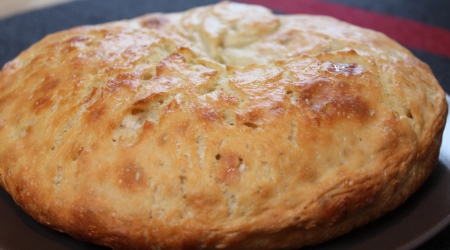 Here's a variation of my Danish Wheat Bread recipe. I added yogurt and used only white flour–the results are a delicious, slightly sour bread that bakes up moist on the inside and crunchy on the outside. It's so yummy! If you haven't tried baking fresh bread yet, you gotta try this recipe. It's really EASY, I promise!
Ingredients:
3 cups all-purpose white flour
1 teaspoon salt
1 teaspoon granulated sugar
1 1/2 teaspoon active dry yeast
3 Tablespoons plain Greek yogurt
1 Tablespoon extra virgin olive oil, plus more for drizzling
1 1/2 cup water
Directions:
In a large glass or metal bowl, whisk together flour, salt, sugar and yeast, until combined.
Add oil, yogurt and water and stir with a spoon for 30 seconds, until a wet dough forms.
Cover bowl completely with a kitchen towel and set in a warm, dry place free of drafts.
Allow dough to set, undisturbed,  for 1 1/2 hours up to 18 hours. (The time is up to you–will not affect outcome of  bread.)
Pre heat oven to 520 degrees F. (Yes, really that high!)
Place a 6- or 7-quart Dutch Oven into oven while pre heating.
Once both the oven and the Dutch oven are steaming hot,carefully remove Dutch oven.
Pour dough into hot Dutch oven.
Lightly drizzle top of dough with olive oil.
Cover with Dutch oven lid and bake 25-30 minutes.
Remove cover and bake additional 5 minutes to brown top of bread.
Remove from oven, and remove bread from Dutch oven to cool.
Best to enjoy this bread fresh, but can be stored in tin foil for up to 24 hours.

Related Recipes