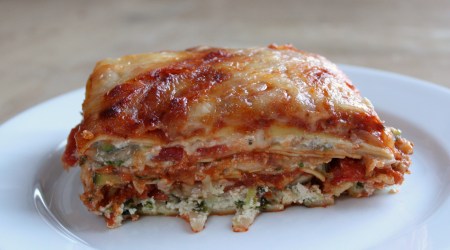 Not to be dramatic, but this recipe has taken me YEARS to perfect! I am so happy to finally write it down and share it with you. The secrets I discovered along the way…mascarpone cheese mixed with the ricotta, and roasted red peppers with the veggies make this lasagna incredible! I made this while my friend Sara was visiting and I think she ate it 4 or 5 times. As with many pasta dishes, it tastes even better left-over. It also freezes well, so stock up!
Ingredients:
2 teaspoons extra virgin olive oil
1 fresh zucchini, diced
2 cups fresh mushrooms, sliced
2 teaspoons minced dried onions
3 cloves fresh garlic, minced
Garlic salt and fresh ground black pepper, to taste
1 cup ricotta cheese
1 cup mascarpone cheese
1 egg, slightly beaten
1/2 cup frozen spinach, thawed and drained really well
1 1/2 teaspoon dried Italian herbs
1 1/2 cups jarred roasted red peppers, diced
5 cups tomato basil sauce, divided
4 cups mozzarella cheese, shredded
2 cups freshly grated parmesan cheese
16 lasagna noodles, uncooked
Directions:
Pre heat oven 375 degrees F.
Spray 9×13 glass baking dish with Pam cooking spray. Set aside.
Heat olive oil in a non-stick skillet over medium high heat.
Add diced zucchini, mushrooms, garlic and dried minced onions.
Cook, stirring often, for 8-10 minutes or until zucchini are crisp tender.
Remove from heat. Season with garlic salt and black pepper and set aside.
In a medium bowl, stir together mascarpone cheese, ricotta cheese, egg, spinach, and Italian herbs. Set aside.
To assemble the lasagna, start by scooping 1 cup of tomato basil sauce into bottom of prepared dish.
Next, place 4 lasagna noodles, slightly overlapping, on top of sauce.
Carefully scoop one third ricotta mixture onto noodles and spread out evenly with spatula.
Top with 1/2 cup roasted red peppers and one third of the zucchini mushroom mixture.
Top with 1 cup tomato basil sauce.
Top with 1 cup of shredded mozzarella and 1/4 cup parmesan cheese.
Layer 4 more lasagna noodles, pressing down slightly. Top with one third ricotta mixture, then 1/2 cup roasted red peppers, then one third zucchini mushroom mixture, then 1 cup tomato sauce, then 1 cup shredded mozzarella cheese and 1/4 cup parmesan cheese.
Repeat above step one additional time (finishing ricotta mixture, roasted red peppers, and zucchini mushroom mixture).
Layer final 4 lasagna noodles, top with remaining 1 cup sauce, remaining 1 cup mozzarella cheese and remaining 1/4 cup parmesan cheese.
Cover tightly with tin foil and place in oven.
Bake 45-60 minutes, until bubbly.
Remove tin foil and continue baking 10-15 minutes, until cheeses are melted and lightly browned.
Allow to set 15 minutes before slicing and serving.

Related Recipes