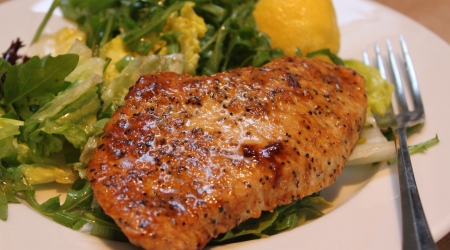 Ever had "Steak Diane"? Me neither. But I came across this healthier version online using turkey cutlets, and was intrigued by it's simple ingredients. So I made it for dinner and it was delicious! A definite keeper. It literally takes 15 minutes or less to prepare and the sauce has a fantastic fresh flavor. Serve it with spring greens tossed in fresh lemon juice and extra virgin olive oil for a super healthy, super yummy meal!
Ingredients:
4 turkey cutlets, pounded to an even thickness
1 teaspoon extra virgin olive oil
2 teaspoons lemon pepper seasonings
2 Tablespoons freshly squeezed lemon juice
1 Tablespoon Worcestershire sauce
1 teaspoon Dijon mustard
1 teaspoon fresh parsley, chopped
Additional lemon wedges, for serving
Directions:
Heat olive oil in a large non-stick skillet over medium heat.
Sprinkle both sides of turkey cutlets with lemon pepper.
Place turkey in hot skillet and saute 3 to 5 minutes, each side, until browned and no longer pink in the center.
Combine remaining ingredients in a small mixing bowl, mixing well.
Add to pan with turkey and cook until heated through, about 5 minutes.
Garnish with lemon wedges and parsley.

Related Recipes