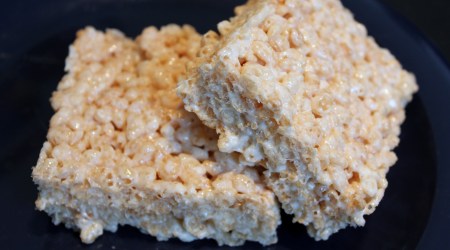 My American friends may be wondering why I'm posting this recipe. Everybody knows how to make Rice Krispie Treats, right?? And if you don't, the recipe is printed on the back of every box of Rice Krispies cereal sold, right? Well, as it turns out, not in Denmark. Though they sell the cereal, butter and marshmallows here, no one has thought to put them all together. I brought the treats to my son's school for his birthday and the kids went bonkers for them! So Denmark, if I may, please allow me to introduce to you the very American Rice Krispie Treat.
Ingredients:
3 Tablespoons butter
1 (10 oz.) package marshmallows (about 40 regular size)
6 cups Rice Krispies cereal
Directions:
In large saucepan melt butter over low heat.
Add marshmallows and stir until completely melted.
Remove from heat.
Add Rice Krispies cereal.
Stir until well coated.
Using buttered spatula or wax paper, evenly press mixture into 13 x 9-inch pan coated with Pam cooking spray.
Cool completely.
Cut into 2-inch squares.
Best if served the same day.

Related Recipes