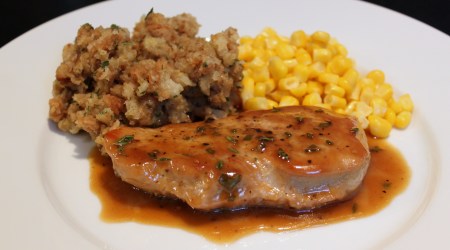 When I first moved to Denmark, I expected to eat a lot of fish, thinking that's what the Danes ate. But as it turns out, the Danes primarily eat pork. So my repertoire of pork recipes has greatly increased. And this is a good one! The pork is glazed with a sweet and savory sauce, laced with fresh herbs and cream. Serve with stuffing and corn for a complete meal. Thanks to my friend Sara for sharing this recipe.
Ingredients:
4 thick-cut, boneless pork chops
2 teaspoons butter
Kosher salt and fresh ground pepper, to taste
1/2 cup chicken stock
1/4 cup real maple syrup (not "American" syrup, like Mrs. Butterworth's)
2 Tablespoons dijion mustard
1 teaspoon fresh sage, chopped
1 teaspoon fresh thyme, chopped
2 teaspoons heavy cream
Directions:
Melt butter in large, non-stick skillet over medium high heat.
Salt and pepper chops, to taste.
Cook chops in butter 3-5 minutes per side, until browned.
Remove chops to a plate and keep warm.
Add broth, syrup, dijion, sage and thyme to pan.
Bring to a boil and cook 3-5 minutes, until thickened.
Add cream and reduce heat.
Place pork back in pan with sauce and simmer 3 minutes.

Related Recipes