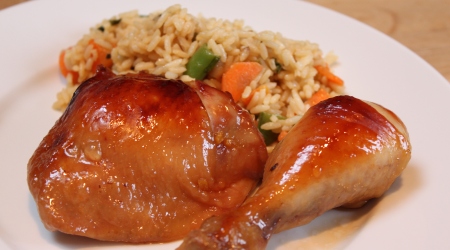 Chicken pieces are marinated overnight in a home-made teriyaki sauce, then roasted to perfection. The chicken is moist and full of flavor! This dish is best served with Asian Vegetable Rice. Thanks to my friend Missy for sharing the recipe with me.
Ingredients:
1 cup honey
3/4 cup soy sauce
1/4 cup fresh minced garlic (about 8 cloves)
1/2 cup fresh peeled fresh ginger root, grated
3 1/2 pounds chicken pieces
Directions:
In a small saucepan over low heat, cook honey, soy sauce, garlic, and ginger root until honey is melted.
Allow to cool completely.
Arrange chicken pieces in a single layer in a shallow baking pan, skin side down, and pour on the sauce.
Cover the pan tightly with aluminum foil.
Marinate 8 hours or overnight in the refrigerator.
Preheat oven to 350 degrees F.
Place baking pan from fridge, covered, into oven and bake 30 minutes.
Uncover pan, turn chicken pieces skin side up, and raise temperature to 375 degrees F.
Continue baking 30 minutes, or until juices run clear. Sauce will be a rich, dark brown color.

Related Recipes