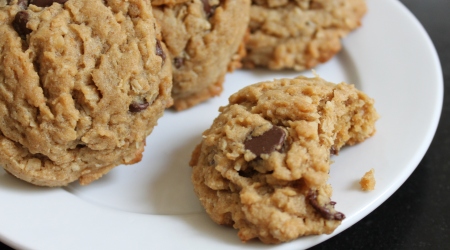 Not sure you can cram anything else into this cookie–the name says it all! It's incredibly special to bake  these in Denmark–a country with no peanut butter or chocolate chips. It's definitely a taste from home any time I make 'em. Found this recipe in Sunset Magazine years ago.
Ingredients:
1  cup butter
1/2  cup granulated sugar
1  cup light brown sugar, packed
1  cup chunky peanut butter
2  large eggs
2  Tablespoons vanilla extract
2  cups quick-cooking rolled oats
2 1/2 cups all-purpose flour
1  teaspoon baking soda
12 ounces semisweet chocolate chips
Directions:
Pre heat oven to 350 degrees F.
In a medium bowl with a mixer on medium speed, cream butter and sugars until smooth.
Add peanut butter and mix until combined.
Add eggs and vanilla, and mix until combined. Set aside.
In another medium bowl, whisk together oats, flour, and baking soda.
Add to butter mixture and mix on low until well incorporated.
Stir in chocolate chips with a wooden spoon.
Drop dough by rounded tablespoons, 1 inch apart onto un-greased baking sheets.
Bake 10 to 12 minutes, or until lightly browned but still soft in the center.
Transfer cookies to wire racks to cool.

Related Recipes