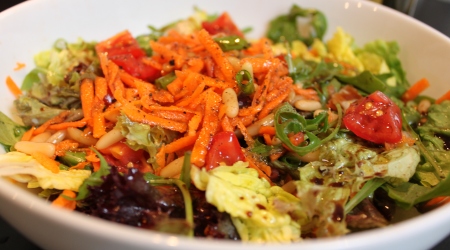 It's good to have a simple tossed salad recipe to fall back on–so here's mine. It's inspired by the "insalata mista" I used to order at my favorite Italian restaurant in California. High quality ingredients make this salad dressing incredible–so splurge on the best extra virgin olive oil and balsamic vinegar you can find. This side salad is fantastic paired with just about anything. Try it with Balsamic Grilled Chicken, Sun-Dried Tomato Crusted Chicken or Fresh Mozzarella Grilled Cheese for a delicious meal!
Ingredients:
2 cups fresh mixed spring greens
1 cup fresh arugula
1/2 cup fresh cherry tomatoes, chopped
1/4 cup fresh carrot, shredded
2 Tablespoons fresh green onions, chopped
2 Tablespoons pine nuts, toasted
1 Tablespoon extra virgin olive oil
1 Tablespoon balsamic vinegar
Kosher salt and freshly ground black pepper, to taste
Directions:
For the salad, toss together first 6 ingredients (greens through pine nuts).
Drizzle olive oil and balsamic vinegar on top of salad.
Add salt and pepper to taste.
Toss well to combine.

Related Recipes