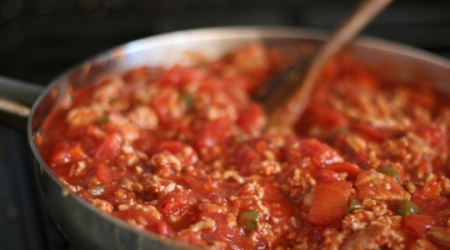 This meat sauce is featured in my Baked Ziti with Meat Sauce recipe, but it's also delicious served over spaghetti noodles or any pasta you chose, really. Serve with freshly grated parmesan cheese and a tossed salad for a complete meal. Leftovers are great the next day, and this sauce freezes well too.
Ingredients:
1 Tablespoon extra virgin olive oil
1 small yellow onion, diced
4 fresh garlic cloves, minced
1 lb. ground beef
2 (15 oz.) cans diced tomatoes w/basil
2 (15 oz.) cans crushed tomatoes
2 (6 oz.) tomato paste
1 cup chicken broth
3 heaping teaspoons basil pesto, prepared
1 teaspoon dried oregano
1 pinch granulated sugar
Garlic salt and fresh ground black pepper, to taste
1/4 cup heavy cream
Pasta noodles and freshly grated parmesan cheese, for serving
Directions:
In a large soup pot, heat olive oil over medium high heat.
Add diced onion and saute until soft, about 5 minutes.
Add garlic and saute 1 minute, until fragrant.
Add ground beef and stirring frequently, cook until no longer pink, about 8-10 minutes.
Push cooked meat to one side of pot, and using a turkey baster, drain fat.
Return to heat and add in remaining ingredients (except cream).
Bring to a boil, then cover and reduce heat.
Simmer 1 hour to marry flavors, stirring occasionally.
Add heavy cream and stir to combine.
Serve over pasta noodles of your choice and top with parmesan cheese, if ya like.

Related Recipes