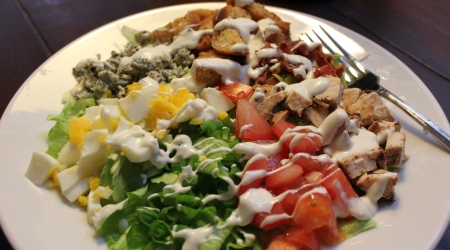 It's salad night again at my house, so I made one of my favorites–a classic Cobb. Piled high with quality ingredients,  this salad is satisfying and delicious. I included my home-made croutons as a topping for added yumminess. Top with dressing of your choice (I recommend Ranch). I didn't include amounts in this recipe, so use quantities that you like.
Ingredients:
Iceberg lettuce
Fresh avocado, diced
Crisp bacon, crumbled
Cooked chicken, chopped
Danish blue cheese, crumbled
Home-made croutons
Fresh tomato, diced
Fresh green onions, chopped
Hard boiled egg, chopped
Directions:
Toss all ingredients together, top with dressing of your choice, and enjoy!
Related Recipes