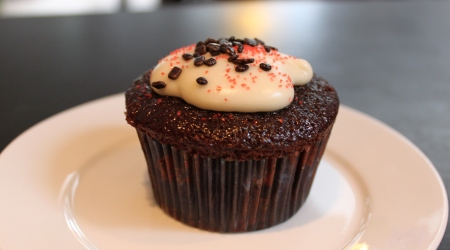 I made these "perfectly chocolate" cupcakes for my son's 3rd Birthday party. (At his request, of course.) They are light and chocolaty and WAY better than any box mix. Recipe comes straight off the back of the Hersey's cocoa box. Frost with cream cheese frosting and enjoy!
Ingredients:
2 cups granulated sugar
1 3/4 cups all-purpose flour
3/4 cup HERSHEY'S Cocoa
1 1/2 teaspoons baking powder
1 1/2 teaspoons baking soda
1 teaspoon salt
2 eggs
1 cup milk
1/2 cup vegetable oil
2 teaspoons vanilla extract
1 cup boiling water
Directions:
Pre heat oven to 350 degrees F.
Line muffin cups with paper baking cups.
Stir together sugar, flour, cocoa, baking powder, baking soda and salt in large bowl.
Add eggs, milk, oil and vanilla.
Beat on medium speed with electric mixer for 2 minutes.
Stir in boiling water (batter will be thin).
Fill cups 2/3 full with batter.
Bake 22 to 25 minutes.
Cool completely on wire rack.
Frost with cream cheese frosting, if ya like.

Related Recipes