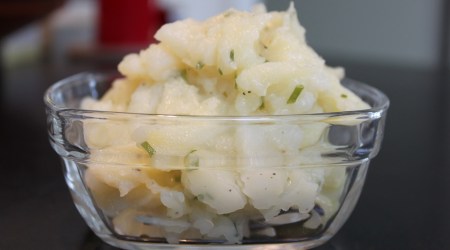 This is a very special family recipe from my Grandma Hirvo, who was born in Germany. She made this potato salad for as long as I can remember, and it's still a staple at our family functions. She shared this recipe with my Mom before she passed away, and my Mom shared it with me. I may very well be the first person to have measured the ingredients and written down the recipe–it's usually made by memory. So here it is…
Ingredients:
5 large white potatoes
1 cup white vinegar
1/4 cup extra virgin olive oil
1/3 cup white onion, finely minced
1/4 cup potato water, reserved from cooking
1 Tablespoon fresh chives, chopped
1 1/2 teaspoon garlic salt
Fresh ground black pepper, to taste
Directions:
Peel potatoes and cut in half.
Place in a large saucepan and cover with cold water.
Bring to a boil over high heat and cook until tender (about 10-15 minutes).
Remove potatoes from water and reserve 1/4 cup of potato cooking water.
Thinly slice potatoes, while still warm, and place in a medium bowl. Set aside.
In a separate bowl whisk together vinegar, oil, potato water and garlic salt until well combined.
Stir onions and chives into vinegar mixture.
Pour vinegar mixture over potatoes and gently stir to combine. (Mixture will be quite moist at first, but as it sits the potatoes will soak up much of the liquid.)
Season with black pepper, to taste.
Refrigerate at least 2 hours, or overnight.
Serve chilled or at room temperature.

Related Recipes