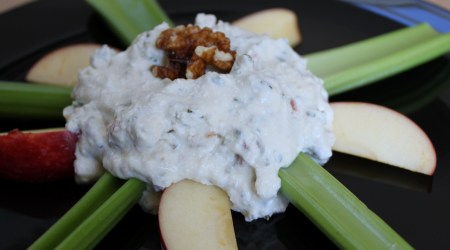 It's hard to live in Denmark and not learn to love strong flavored Danish blue cheese. It's great on a KP Cobb Salad, Chicken and Strawberry Salad with Vinaigrette, and fantastic in this dip recipe that I found in Southern Living magazine. This dip is really rich, so serve it with celery and apples to balance the flavors. A little goes a long way.
Ingredients:
7  bacon slices, chopped
3  fresh garlic cloves, minced
2  (8-ounce) packages cream cheese, softened
1/3 cup heavy cream
1/2 cup Danish blue cheese, crumbled
2  Tablespoons fresh chives, chopped
3  Tablespoons walnuts, chopped
Directions:
Pre heat oven to 350 degrees F.
Cook chopped bacon in large skillet over medium high heat for 10 minutes, or until crisp.
Drain bacon and set aside.
Add minced garlic to skillet, and saute 1 minute. Remove from heat and set aside.
In a medium bowl, beat cream cheese at medium speed with an electric mixer until smooth.
Add cream, beating until combined.
Stir in bacon, garlic, blue cheese, and chives.
Spoon mixture evenly into a glass pie plate.
Bake for 25-30 minutes, or until golden and bubbly.
Sprinkle evenly with chopped walnuts and serve with sliced apples, celery or assorted crackers.

Related Recipes