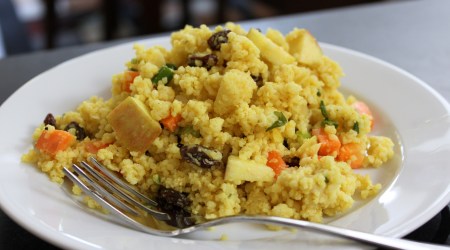 My friend Missy shared this recipe with me and swears that it's helping her stay trim this summer. Couscous is a great grain that fills you up without all the starch of a heavy pasta. This salad is sweet and spicy and delicious! Try it for lunch this week.
Ingredients:
2 cups dry couscous
1/2 cup plain yogurt
1/2 cup extra virgin olive oil
2 teaspoons white wine vinegar
2 1/2 teaspoons curry powder
1 teaspoons kosher salt
1 teaspoon fresh ground black pepper
1 cup carrots, diced
1/2 cup raisins
1 tart apple, chopped
Juice from half a fresh lemon
1/2 cup almonds, sliced
2 fresh green onions, chopped
1/4 cup red onion, diced
Directions:
Cook couscous according to package directions.
Place in a large bowl and fluff with fork. Set aside.
Whisk together yogurt, olive oil, vinegar, curry, lemon juice, salt and pepper.
Pour over fluffed couscous and mix well with a fork.
Gently fold in carrots, apples, raisins, almonds, green onions and red onions.
Serve at room temperature.
Refrigerate leftovers in a tightly sealed container.

Related Recipes