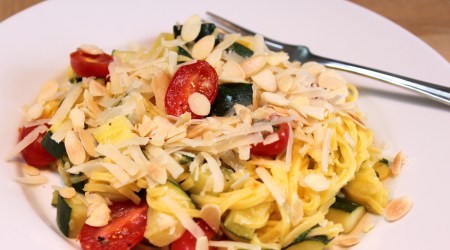 Here's a new recipe I tried and I love it! It's fresh, easy, and DELISH! I haven't cooked much with fresh mint in the past, but absolutely love it in this pasta. This is a perfect summer meal. And hey, use the leftover mint for a mojito and enjoy on the patio! Found the recipe in Cooking Light magazine.
Ingredients:
2 cups fresh cherry tomatoes, halved
2 Tablespoons fresh shallots, minced
1 teaspoon fresh thyme, minced
3 teaspoons fresh lemon juice, plus more for serving
3/4 teaspoon kosher salt
1/2 teaspoon fresh ground black pepper
1/4 teaspoon sugar
5 teaspoons extra virgin olive oil, divided
1 (9-ounce) package refrigerated linguine pasta
1 1/2 teaspoons bottled minced garlic
3 cups (about 1 pound) zucchini, chopped
3/4 cup chicken broth
3 Tablespoons fresh mint , chopped
1/3 cup grated fresh parmesan cheese
3 Tablespoons sliced almonds, toasted
Directions:
Combine first 7 ingredients in a medium bowl (tomatoes thru sugar). Add 2 teaspoons olive oil, tossing to coat. Set aside.
Cook pasta according to package directions. Drain well and set aside.
Heat a large nonstick skillet over medium high heat.
Add remaining olive oil to pan, swirling to coat.
Add garlic to pan and saute 30 seconds.
Add zucchini and saute 3 minutes or until crisp-tender.
Add broth and bring to a simmer.
Stir in pasta and mint and toss well.
Remove from heat and stir in tomato mixture.
Sprinkle with parmesan and almonds.
Squeeze on extra lemon juice before serving, if ya like.

Related Recipes