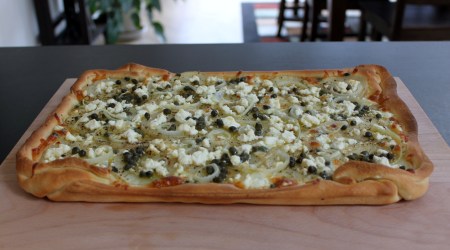 One thing I love about keeping this web site, is digging thru all my old recipes and trying things that I've wanted to make for years. Like this incredible pizza! I've seriously had this recipe for as long as I can remember, but for whatever reason, never made it. Until today. And I'll be honest—the whole time I was making this I kept thinking I should add something more to the pizza…like a sauce, or artichokes, or tomatoes. But I held off and made the recipe as is. And guess what? It's fantastic!!! Really, one of the tastiest pizzas I've ever had. And fancy enough to serve to guests. (Oh, and since this recipe is so old, I have no idea what magazine I pulled it from—sorry I can't give proper credit!)
Ingredients:
Pizza Dough (recipe can be found separately on this site)
2 red-skinned potatoes (about 6 oz. each)
1 cup mozzarella cheese, shredded
1 cup Monterey jack cheese, shredded
1 teaspoon dried Italian herbs
½ cup white onion, sliced thinly
2 Tablespoons capers, drained
¼ cup feta cheese, crumbled
1 Tablespoon extra virgin olive oil
Kosher salt and freshly ground black pepper, to taste
Directions:
Pre heat oven to 425degrees F.
Scrub potatoes and cut into ¼-inch thick slices.
Arrange potato slices in a steamer basket, and place steamer basket in a saucepan with at least an inch of water.  Cover pan.
Over medium high heat, steam potato slices 10 minutes, or until tender when pierced with a fork.
Set cooked potato slices aside.
Spray 12-inch pizza pan with Pam cooking spray.
Press pizza dough into pan.
Pre-bake crust 5 minutes. (With no toppings.)
Remove crust from oven, and sprinkle mozzarella and jack cheeses over crust.
Place potato slices in a single layer over cheeses.
Sprinkle potatoes with salt and pepper to taste.
Sprinkle Italian herbs, onion slices, and feta cheese over potatoes.
Drizzle with olive oil.
Bake 15-20 minutes, or until crust is browned and cheese is melted.
Allow to set 5 minutes before slicing and serving.

Related Recipes