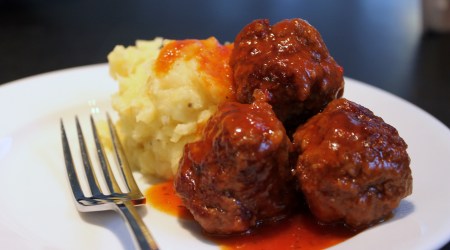 Here's something new to try with ground beef–a KP original. It's easy to assemble, though cooks slowly for an hour, so plan ahead. The sauce is tangy and sweet and great over mashed potatoes!
Ingredients:
2 lbs. ground beef
½ cup Progresso Italian Bread Crumbs
1 Tablespoon dried minced onions
2 teaspoon dried mustard
1 Tablespoon extra virgin olive oil
2 (10 oz.) cans tomato sauce
1 cup Heinz Sweet Chili Sauce
½ cup cider vinegar
½ cup brown sugar, packed
2 teaspoons dried thyme
Directions:
In a large bowl, mix together beef, bread crumbs, minced onions, and dried mustard, until well combined.
Form beef mixture into small meatballs, by rolling between palms of hands.
In a large skillet, heat olive oil over medium heat.
Cooking in batches, brown meatballs on all sides, about 5 minutes.
In a large saucepan, whisk together tomato sauce, chili sauce, vinegar, brown sugar, and thyme.
Heat sauce to boiling.
Place browned meatballs into boiling sauce, and reduce heat to low. Cover.
Simmer on low for 1 hour.

Related Recipes