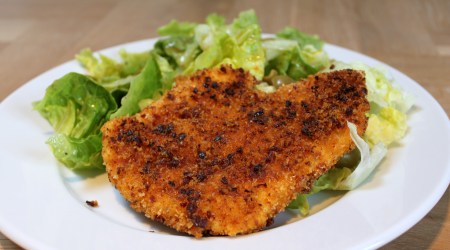 Try this flavor packed recipe the next time you can't think of what to do with chicken breasts. Serve with a Mixed Salad with Balsamic Dressing for a delicious lunch or light dinner!
Ingredients:
4 boneless, skinless chicken breasts
Kosher salt and freshly ground black pepper, to taste
2 cups panko bread crumbs
1/2 cup oil-packed sun-dried tomatoes, drained, sliced
4 large garlic cloves, peeled
1/2 cup all-purpose flour
1 egg
1 Tablespoon water
2 Tablespoons extra virgin olive oil
Directions:
Using a meat mallet, pound each chicken breast to 1/2-inch thickness.
Season with salt and pepper , to taste. Set aside.
Place breadcrumbs, sun-dried tomatoes, and garlic in a food processor. Pulse until well combined.
Transfer breadcrumbs to a shallow dish.
In another shallow dish, place flour.
In a third dish, whisk together egg and water.
Dredge both sides of each chicken breast in flour.
Then dip in egg mixture to coat.
Next press into breadcrumbs, and pat both sides to coat.
Heat oil in a large, non-stick skillet over medium heat.
Saute chicken breasts until golden brown, 3-5 minutes per side.
Allow to rest 5 minutes before serving.

Related Recipes