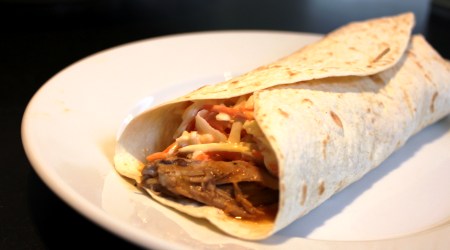 This delicious recipe comes from my friend Kristin. The pork cooks slowly until tender in a sweet and tangy sauce. Wrapped in a tortilla and topped with Creamy Cole Slaw, it's a great lunch or dinner! Thanks Kristin for sharing this with me (and now the world!)
Ingredients:
1 medium onion, chopped
2 fresh garlic cloves, minced
1 Tablespoon extra virgin olive oil
4 Tablespoons apple cider vinegar
1/2 cup ketchup
3 Tablespoons Heinz Sweet Chili Sauce
2 teaspoons Tabasco sauce
4 teaspoons Worcestershire sauce
1 1/2 cup water
Kosher salt and fresh ground black pepper, to taste
1 (12 oz) pork tenderloin, halved crosswise
Tortilla wraps
2 cups Creamy Cole Slaw (recipe listed separately on this site)
Directions:
In a large stock pot, saute onion and garlic in olive oil over medium heat, stirring until golden brown.
Whisk together vinegar, ketchup, chili sauce, Tabasco, Worcestershire, and water. Add to pot.
Bring to a boil, then lower to a simmer.
Simmer covered, stirring occasionally, for 10 minutes or until slightly thickened.
Add salt and pepper to pork, to taste.
Add pork to pot and simmer for approximately 45 minutes, or until fork tender.
Using tongs, transfer pork to a cutting board. Using two forks, shred pork. Set aside.
Using a hand held blender, puree sauce until smooth.
Add shredded pork back to sauce.
Simmer, stirring until heated through.
Divide shredded pork among tortillas and top with coleslaw.

Related Recipes