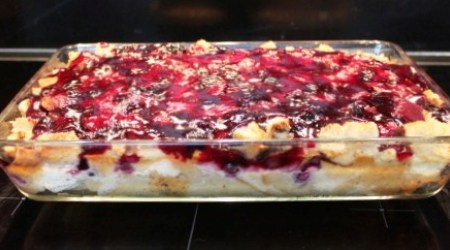 I love to serve overnight recipes like this for brunch with friends and family. You prep everything the night before, then simply bake the next morning. This French toast dish is bursting with fresh blueberries and is a must-have at your next brunch. The home-made blueberry syrup is fantastic! I found this recipe on Allrecipes.com, and only tweaked a few things.
Ingredients:
12 slices thick French bread, cut into 1-inch cubes
2 (8 oz.) packages cream cheese, cut into 1-inch cubes
2 cups fresh blueberries, divided
12 eggs, beaten
2 cups milk
2 teaspoon vanilla extract
1/3 cup real male syrup
2 teaspoons cinnamon
1 cup granulated sugar
2 Tablespoons cornstarch
1 cup water
1 Tablespoon butter
Directions:
Spray 9×13 glass baking dish with Pam cooking spray.
Arrange half the bread cubes in bottom of prepared dish.
Top bread cubes with cream cheese cubes, evenly dispersed.
Sprinkle 1 cup blueberries over cream cheese in baking dish.
Top with remaining bread cubes.
In a large bowl, whisk together eggs, milk, vanilla, syrup, and cinnamon.
Pour egg mixture evenly over bread cubes.
Using a spatula, gently press bread cubes to ensure all are covered with egg mixture.
Cover with tin foil and refrigerate overnight.
Remove French toast from fridge 30 minutes prior to baking.
Pre heat oven to 350 degrees F.
Keep covered with tin foil and bake 30 minutes.
Remove tin foil, and continue baking 30 additional minutes, until center is firm and top is lightly browned.
To make syrup, whisk together sugar, cornstarch, and water in a medium saucepan.
Over medium high heat, bring mixture to a boil.
Stirring constantly, cook 3 minutes.
Mix in remaining 1 cup blueberries.
Reduce heat to low and simmer 10 minutes, until blueberries burst.
Stir in butter.
Pour syrup over baked French toast and serve immediately.

Related Recipes