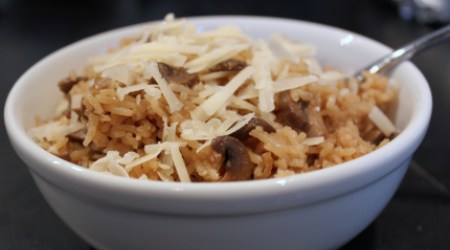 This is a simple, savory side dish that pairs well with Chicken Cordon Bleu, Mrs. Dash Skillet Chicken, Panko Pork Chops, or Grilled Pork Chops. Can also be a stand alone vegetarian meal. My friend Rachel gave me this recipe, though she calls it "popcorn rice". Because your kitchen smells like popcorn as the rice bakes. It's delish–thanks Rach!
Ingredients:
3 cups boiling water
2 beef bouillon cubes, crushed
1 packet Lipton Onion Soup mix
4 oz. fresh mushrooms, sliced
5 Tablespoons butter, melted
1 1/3 cup Basmati rice
1/4 cup freshly grated parmesan cheese
Directions:
Pre heat oven to 350 degrees F.
In a 2 1/2 quart casserole dish, mix together boiling water, bouillon, soup mix, mushrooms, butter and rice.
Cover and bake 30 minutes.
Remove from oven and stir.
Cover, return to oven, and bake additional 30 minutes.
Remove from oven and fluff with fork.
Top with cheese.
Sever immediately.

Related Recipes