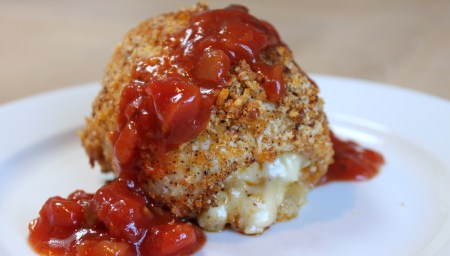 This chicken is stuffed with cheese and chilies, rolled in spicy breadcrumbs, then baked to perfection! Top with Fresh Tomato Salsa and serve with Mexican Rice & Beans for a complete fiesta at your house.
Ingredients:
4 boneless, skinless chicken breasts
1 (7 oz.) can diced green chilis
1 cup monterey jack cheese, shredded
1/2 cup bread crumbs
1/4 cup freshly grated parmesan cheese
1/3 teaspoon chili powder
1/4 teaspoon ground cumin
1/2 teaspoon kosher salt
Freshly ground black pepper, to taste
5 Tablespoons butter, melted
Fresh Tomato Salsa, for serving
Directions:
Place chicken breasts between 2 sheets of waxed paper, and pound until 1/4-inch thin.
Divide green chilies evenly between 4 breasts and spread down the center.
Top chilies with 1/4 cup shredded monterey jack cheese on each breast.
Roll up each chicken breast, securing the chilies and cheese inside and tuck ends under to seal. Set aside.
In a shallow dish, combine bread crumbs, parmesan cheese, chili powder, cumin, salt and pepper.
Dip each breast in melted butter, gently turning to coat.
Then roll in bread crumb mixture.
Spray a baking dish with Pam cooking spray.
Place breaded breasts in dish, seam side down.
Drizzle with remaining butter.
Cover and chill 4 hours or overnight.
Pre heat oven to 400 degrees F.
Remove cover and bake chicken 35 minutes, or until juices run clear.
Remove from oven and allow to set 5 minutes.
Top with Fresh Tomato Salsa and serve.

Related Recipes