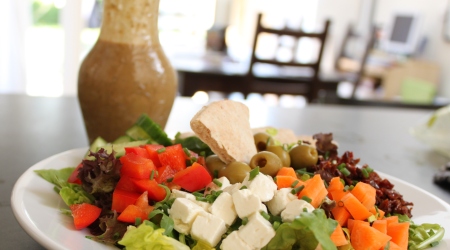 Summer is back and so is my craving for salad! For this salad, I tossed spring greens with Mediterranean inspired veggies , feta and beans. Then I topped it with a fantastic home-made dressing. The dressing is made with tahini, which is sesame paste–a key ingredient in hummus. Thanks to my friend Lindsey for the dressing recipe! Serve this salad with toasted pita wedges, if ya like.
Ingredients:
For the salad
4 cups fresh spring lettuce mix, rinsed and dried
1/2 cup red bell pepper, diced
1/2 cup carrotts, diced
1/2 cup canned chickpeas, drained and rinsed
1/2 cup sun-dried tomatoes, packed in oil, drained
1/2 cup cucumber, diced
1/2 cup green olives
1/2 cup feta cheese, crumbled
For the dressing
1/2 cup extra virgin olive oil
1/4 cup tahini paste
2 Tablespoons apple cider vinegar
2 Tablespoons fresh lemon juice (do not use bottled)
2 Tablespoons soy sauce
1 teaspoon honey
1 teaspoon dried dill
1 teaspoon dried chives
Directions:
To make the salad, gently toss all ingredients together.
To make the dressing, whisk all ingredients together until combined. Refrigerate at least 1 hour.
Remove from fridge and allow to set at room temp for 10 minutes prior to serving.

Related Recipes