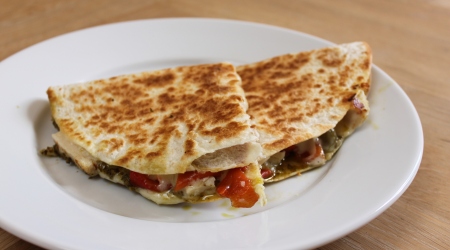 As with so many good recipes, this one was created as I was cleaning out the fridge. I threw together ingredients on hand and came up with this yummy, cheesy, healthy lunch idea. Enjoy!
Ingredients:
2 flour tortillas
1/3 cup prepared pesto
1/2 cup cooked chicken, chopped
1/2 cup jarred roasted red peppers, diced
1/2 cup fresh baby spinach leaves, torn
1/2 cup mozzarella cheese, shredded
1/4 cup freshly grated parmesan cheese
Directions:
Heat a large non-stick skillet over medium heat.
Spray skillet with Pam cooking spray.
Place 1 tortilla in skillet.
Spread pesto evenly onto tortilla in skillet , leaving 1/2-inch border around edges.
Layer on spinach, red peppers and chicken.
Add mozzarella and parmesan cheeses on top.
Place second tortilla on top and gently press together with a spatula.
Cook on medium heat 8 minutes.
Spray top of tortilla with Pam cooking spray.
Using a large spatula, very carefully flip quesadilla over.
Continue cooking additional 8 minutes, or until tortilla is golden brown and cheese is melted.
Transfer to cutting board, and using a pizza slicer, slice into 4 wedges.
Serve with ranch dressing or marinara sauce for dipping, if ya like.

Related Recipes