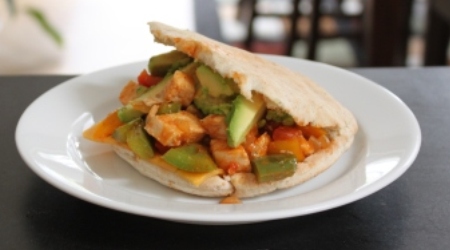 How's this for a multi-cultural meal?? All the flavors of a Mexican fajita, stuffed into a pita. Great for a quick lunch that satisfies your craving for Mexican food, but without all the fat and calories. This KP original makes enough for two pitas.
Ingredients:
2 pitas
2 teaspoons extra virgin olive oil
1 boneless, skinless chicken breast
1 cup bell peppers (any combo of red, green, yellow), diced
1/2 cup red onion, diced
3/4 cup jarred salsa
Tabasco sauce, to taste
2 slices cheddar cheese
1 fresh avocado
Directions:
Add olive oil to a large non-stick skillet over medium high heat.
Dice chicken and add to oil.
Saute 5-8 minutes.
Add peppers and onions.
Saute additional 8-10 minutes, or until chicken is cooked.
Remove from heat.
Stir in salsa and Tabasco.
Spit pitas and place one slice of cheese in each.
Divide chicken mixture between pitas equally.
Cut avocado in half and scoop one half into each pita.
Serve immediately.

Related Recipes