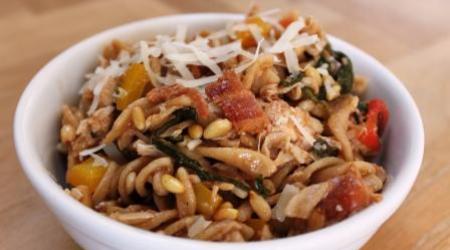 You may have heard the advice, "eat your colors". Meaning eat many colorful fruits and veggies at every meal. Typically the darker and richer the color of the food–the more vitamins it's packing. I love this healthy pasta dish for that reason–it's loaded with colorful, nutrient-rich veggies. Served with whole wheat pasta, it's a complete, nutritious, delicious meal!
Ingredients:
1 1/2 cup Vidalia or other sweet onion, chopped
3 cloves fresh garlic, minced
1 (10 oz.) package fresh spinach, chopped
2 cups fresh plum tomato, chopped
1 cup yellow bell pepper, chopped
2 cups cooked rotisserie chicken, chopped
6 slices cooked bacon, crumbled
1/2 cup pine nuts
1/2 cup Asiago cheese, shredded
Kosher salt and fresh ground black pepper, to taste
1 lb. whole wheat spiral pasta, cooked and drained according to package directions
7 Tablespoons extra virgin olive oil, divided
4 Tablespoons balsamic vinegar
4 Tablespoons cider vinegar
1 Tablespoon honey
Directions:
Heat 1 Tablespoon olive oil in a large non-stick skillet over medium-high heat.
Add onion and yellow bell pepper and saute 2 minutes.
Add garlic and saute 30 seconds, or until fragrant.
Add spinach and cook 2 minutes, or until it wilts.
Stir in chopped tomato, chicken, and bacon and cook until heated, about 3 minutes.
Remove from heat and set aside.
In a medium bowl, whisk together remaining 6 Tablespoons olive oil, balsamic, cider vinegar and honey until combined.
Pour vinegar mixture over hot cooked pasta and gently toss.
Add chicken mixture and pine nuts to pasta and gently toss.
Top with shredded cheese.
Serve hot or room temperature.

Related Recipes