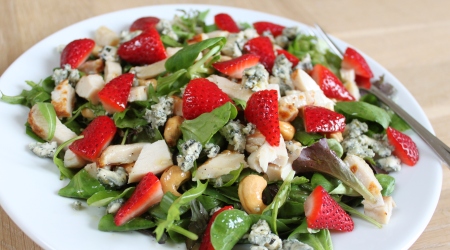 Fresh, sweet summer strawberries tossed with rich, creamy Danish blue cheese and cashews make this salad worth every bite. Serve with fresh baked Yogurt White Bread and lemonade, and enjoy while sitting outside in the sun. Happy summer!
Ingredients:
1 Tablespoon sugar
2 Tablespoons red wine vinegar
1/8 teaspoon salt
1/8 teaspoon fresh ground black pepper
3 Tablespoons extra-virgin olive oil
8 cups spring lettuce mix, rinsed
2 cups fresh strawberries, quartered
1/3 cup green onion, chopped
2 cups rotisserie chicken breast, sliced
2 Tablespoons cashews, halved
1/2 cup crumbled Danish blue cheese
Directions:
To prepare dressing, combine first 4 ingredients in a small bowl. Gradually drizzle in oil, stirring constantly with a whisk.

To prepare salad, combine lettuce and next 4 ingredients (through chicken) in a bowl; toss gently.

Top with cashews and blue cheese.

Drizzle with dressing.

Serve immediately.

Related Recipes