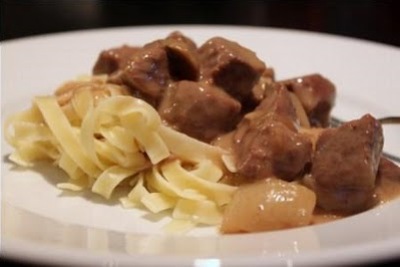 File this one under easy and yummy!! It reminds me of beef stroganoff, but not as rich. It's a good weekend meal, as it bakes for 3 hours. Serve this fork tender beef and mushroom gravy over egg noodles for a great dinner. Thanks to my friend Missy for this recipe!
Ingredients:
1 lb. stewing beef chunks
2 cans condensed cream of mushroom soup
1 package Lipton's onion soup mix, dry
3/4 cup dry sherry wine
1/2 lb. fresh white mushrooms, cleaned and sliced
1 small white onion, sliced
Egg noodles, for serving
Directions:
Pre heat oven to 325 degrees F.
Spray large casserole dish with Pam cooking spray.
Mix soup, sherry, and dry onion soup mix in casserole dish with a whisk, until well blended.
Add beef and stir to coat all pieces.
Cover dish and bake 2 1/2 hours.
Remove from oven. Stir in mushrooms and onions. Cover.
Return to oven and bake ADDITIONAL 1/2 hour.
Serve beef and gravy over egg noodles, if desired.

Related Recipes