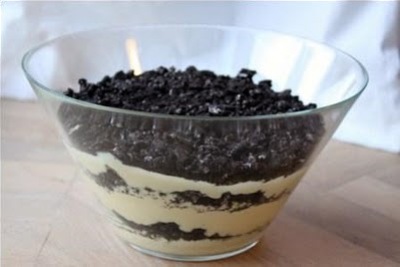 This recipe originally came from my cousin Julie, but called for Oreo cookies and Cool Whip as main ingredients. I've re-done the recipe to replace those ingredients with healthier options. Using real whip cream and organic cookies from Newman's eliminates unwanted hydrogenated oils. And it still tastes delish!
Ingredients:
2 (8 oz.) packages cream cheese, softened
2 cups powdered sugar
3 cups milk
2 large packages instant vanilla pudding, dry
8 oz. whipping cream, whipped
16 oz. package Newman-O's cream filled chocolate cookies, crushed
Directions:
In a large bowl, cream together cream cheese and powdered sugar using an electric mixer until blended, about 2 minutes.
In a separate bowl, using an electric mixer, beat together pudding mix and milk until thickened, about 3 minutes.
Add pudding mixture to cream cheese mixer and beat 1 minute, until combined.
Fold in whip cream.
In a large glass trifle bowl, layer 1/3 crushed cookies in bottom.
Top with 1/3 pudding mixture.
Repeat layers 2 times, ending with crushed cookies on top.
Cover and chill at least 1 hour prior to serving.

Related Recipes