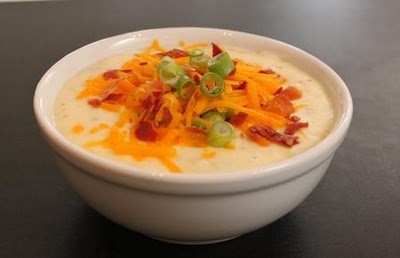 Rich, creamy, comfort food! This soup has all the flavors of a loaded baked potato and is ready in about an hour. I found this recipe in a magazine years ago, but don't know which one. To re-heat leftovers, stir in a few drop of water to eliminate thickness. Recipe makes 8 servings.
Ingredients:
4 medium baking potatoes
2/3 cups all-purpose flour
6 cup 2% milk
1 cup extra sharp cheddar cheese, shredded (more for garnish, if desired)
Kosher salt and freshly ground black pepper, to taste
1 cup sour cream
1 cup green onions, chopped and divided
6 bacon slices, cooked and crumbled
Directions:
Wash potatoes and pierce several times with a fork. Place each potato in an individual plastic baggie. Microwave on high 8-10 minutes or until fork tender. Carefully remove from baggies and allow to cool .
Peel cooled potatoes and coarsely mash. Set aside and discard skins.
Place a large soup pot over medium heat.
Lightly spoon flour into dry measuring cups and level with a knife. Place flour in soup pot.
Gradually pour in milk and stir with a whisk until completely blended.
Cook over medium heat until thick and bubbly (about 8 minutes).
Add mashed potatoes, cheese, salt and pepper to soup pot. Stir until cheese melts.
Remove from heat.
Stir in sour cream and 1/2 cup green onions.
Lower heat to low and place soup pot back on stove.
Cook 10 minutes, or until heated through. Be careful not to boil!
Ladle into soup bowls and garnish with remaining green onions, crumbled bacon, and additional cheddar cheese, if desired.

Related Recipes