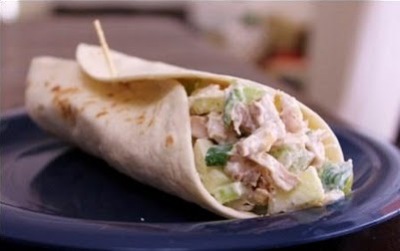 This wrap sandwich is a great combination of textures–crunchy apples and walnuts, juicy grapes, and creamy mayo. All the fresh ingredients are bursting with flavor! Serve this KP original as a light lunch with a tall glass of iced tea. Recipe makes about 6 wraps.
Ingredients:
2 cups cooked rotisserie chicken, chopped
1 small tart apples, peeled, cored and chopped
20 seedless grapes, halved
1 cup toasted walnuts, coarsely chopped
2 celery stalks, chopped
1/3 cup green onion, chopped
2/3 cup mayo
3 Tablespoons fresh lemon juice (do not used bottled)
Kosher salt and fresh ground black pepper, to taste
6 tortilla wraps (soft taco size)
Directions:
Combine all ingredients in a large bowl (except tortilla wraps). Mix gently to combine.
Scoop equal amounts into each tortilla wrap and wrap up.
Serve immediately.

Related Recipes