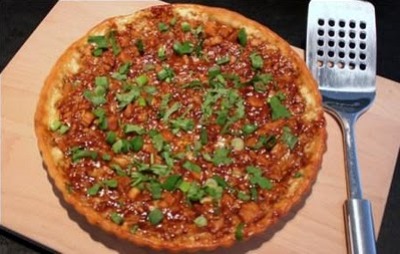 Well, Cooking Light magazine has done it again. They've created a fantastic recipe that's healthy, easy, and so delicious you won't want to share! I absolutely love this pizza as served by California Pizza Kitchen–but it has two problems. The first is how fatty it is and the second is that I live 4000 miles away from the closest CPK

So when I tried this pizza I was instantly satisfied. The taste is exactly like CPK, but without the guilt. You just gotta try this!!
Ingredients:
3/4 cup rice vinegar
1/4 cup light brown sugar, packed
1/4 cup soy sauce
3 Tablespoons water
1 Tablespoon fresh ginger, minced
2 Tablespoons chunky peanut butter
1/2 teaspoon crushed red pepper
4 fresh garlic cloves, minced
Pizza Dough (recipe listed separately on this site)
1 cup cooked chicken, cut into bite-sized pieces
1/2 cup Swiss cheese, shredded
1/4 cup mozzarella cheese, shredded
1/4 cup green onions, chopped
1/4 cup fresh cilantro, chopped
Directions:
Pre heat oven to 425 degrees F.
Place pizza crust onto 12-inch pizza pan sprayed with Pam cooking spray. Crimp edges to form a rim.
Pre-bake pizza crust 5 minutes. (With no toppings.) Remove from oven and set aside.
Combine first 8 ingredients in a bowl (rice vinegar thru garlic) and stir well with a whisk.
Pour rice vinegar mixture into non-stick skillet over medium high heat.
Bring to a boil over medium-high heat. Cook mixture 6-8 minutes or until slightly thickened.
Add cooked chicken to skillet and heat 2 minutes. (Mixture will be consistency of thick syrup.)
Sprinkle cheeses over pre-baked crust, leaving a 1/2-inch border.
Top with chicken mixture.
Bake 15-20  minutes on bottom rack in oven.
Remove from oven and sprinkle with green onions and cilantro.
Place pizza on a cutting board and let stand 5 minutes before slicing.

Related Recipes