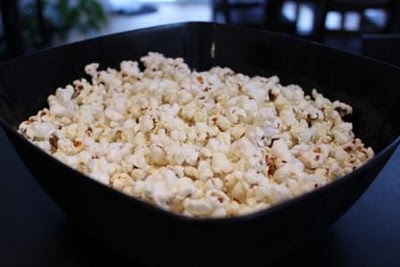 My friend Leah taught me how to make popcorn like they do in Italy. And I'll never make it another way again! It's soooo good and so simple!!! Toss out your microwave popcorn, try this, and see if you agree.
Ingredients:
Extra virgin olive oil
Popcorn kernels
Kosher salt
Directions:
Coat bottom of a large stock pot with olive oil.
Heat over medium high heat until oil is hot.
To test that oil is hot, add 1 popcorn kernel to pot. If it pops, the oil is ready.
Add enough popcorn kernels to cover bottom of pot completely.
Cover pot with lid and shake pot vigorously to mix kernels with oil.
Listen carefully for popping to stop, then immediately dump into large bowl.
Drizzle olive oil to taste over freshly popped corn and add salt to taste.
Serve immediately.

Related Recipes